ASTORIA 3 BED PET FRIENDLY WITH DECKING
Our Astoria with decking caravans boast the highest range of fixtures and fittings with the added comfort of being fully double glazed and centrally heated and having a decking.  Pet Friendly.
FEATURES / FACILITIES
13 ft Wide (546 sq ft)
Full Wrap around decking
Flatscreen TV In Every Room
Nintendo Switch For Your Enjoyment
Pet Friendly
Doggy Welcome Pack
Sleeps 8 people
Full Size Fridge Freezer
Fully Equipped Kitchen
Ensuite Toilet
Washing Machine
Dishwasher
Double Parking Drive
Free Gas & Electricity
At Pencnwc Holiday Park we have a wide range of facilities ensuring there is something for everyone during your stay with us.
Our modern clubhouse boasts two bars, Merlyn's Den & Smugglers Bar. Merlyn's Den is open weekends and peak weeks with a very high standard of entertainment ranging from in house quizzes, karaoke, gameshows to the best bands and solo artists on the circuit. Our resident entertainers run a Kids club too!! Smugglers Bar is a more relaxing bar, with 10 tv's here you can grab a coffee and read the paper or just have a chat with friends. The amusements arcade has a variety of games and teddy crane's too!! Wifi is free in our clubhouse ensuring you can keep up to date with the outside world. 
The clubhouse also offers a Bar and Grill in The Smugglers Bar and a separate Takeaway. Offering a variety of Takeaway food and sit down meals including light bites and Children's meals.
Our indoor heated swimming pool sits alongside the clubhouse with a seating area inside and a patio area outside. There is also an area for parents to take their babies/toddlers. The indoor heated pool is very popular with young and old!! Alongside our swimming pool we have a play area and a second adventure play park just a short stroll away from the clubhouse. 
We have a well stocked fishing lake with double figured Carp recently being caught. Here we have acres of space to give you the feeling of freedom that pervades the whole of this part of West Wales.
* opening times vary in season.
Pencnwc is situated just 2 miles inland from the pretty fishing village of New Quay with its harbour walls and safe beaches, rugged cliffs and secluded coves. 20 miles to the North is Aberystwyth and to the South is Cardigan.
New Quay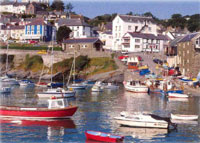 New Quay has all the charm of a traditional fishing village, fisherman's cottages tucked together on the quaint streets that lead down to the beach. The harbour wall curves into the sea, forming a safe haven for the small fleet of fishing boats. It also ensures safe bathing on the sandy beach which is surrounded by the cliffs above.
The village is an artist's paradise and many of their paintings can be bought from the shops as a permanent reminder of your holiday in this attractive village. Fishing trips sail daily into Cardigan Bay. They not only offer good sport but the chance to see the dolphins that are often seen in the clear blue waters. The view of the cliffs is spectacular as you sail back home, with the setting sun beautifully illuminating the rocks, islands and coastline.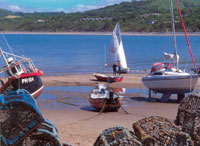 Early Each morning fish, lobsters, crab and even shark, freshly caught can be purchased from the local fishermen as they land their catch on the quayside. On a clear day, Snowdon, with its surrounding mountains can be seen forming an incredible backdrop special to only Newquay.
Alongside the old, the new combines without destroying the character and charm that abounds. Public houses, bars and restaurants offer a variety of night life to suit all tastes. The shops are also many and varied. New Quay - a lovely village in a charming setting with views over every part of the vast expanse of bay and blue water.
Beaches
Beaches of all kinds lie along this incredible and varied coastline. Sandy and safe, they seem to stretch as far as the eye can see. Others, tiny and tucked away with fascinating rock pools surrounded by high bracken and tree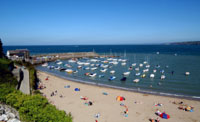 covered cliffs, each having an individual character of its own.

The variety of things to see and do is almost bewildering in this little known part of the Welsh countryside. Tiny stone built houses making up the many villages and towns that are still unspoilt. Fishing villages each with their own distinctive character and flavour, lie hidden away in the nooks and crannies that form this delightful coastline. The castles, a hallmark of the Welsh countryside, stand as silent sentinels to the past. Chapels, monastries and churches form a fascinating thread to the Welsh tradition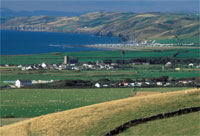 of worship. There are gold and slate mines, wool and flour mills - still working today, museums. wateralls, wildlife parks and many attractions for every member of the family whatever their tastes.
There is the Georgian styled village of Aberaeron, with its pretty coloured houses, Llandysul and Newcastle Emlyn both attractive market towns. Llanybydder is world famous for its horse fair and Cenarth for its waterfalls and ancient coracle boats made of wickerwork and skins. The list is endless with many, many more for you to find and explore.
Countryside
Dotted around, the Welsh white washed cottages, with cement roofs and natural sto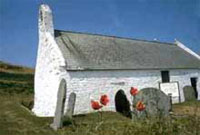 ne walls, alongside waterfalls and streams flowing through the patchwork fields and into picturesque valleys on their way to the sea. Market towns, full of local people going about their everyday business, occasionally speaking Welsh. Tiny harbours sit in hidden valleys with twisting streets and little shops - the choice is yours. The National Trust coastpath is nearby - 180 miles of fantastic walking - Beautiful wild flowers and an incredible variety of birdlife can be seen, villages and tiny harbours to be found, as if lost to the outside world.
Cardigan and Aberystwyth
The market town of Cardigan and the University town of Aberystwyth are both 20 miles away.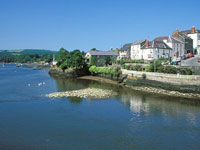 The remains of the castle which was the site in 1176 of the first National Eisteddfod. Today, Cardigan has a considerable variety of shops among its lanes and courtyards. Aberystwyth has a more cosmopolitan atmosphere - it was once a walled town adjacent to one of Edward's castles.
It houses the National Library of Wales, here scores of people flock to trace their Welsh ancestry. Some of the last steam locomotives will take you along it's narrow gauge track to the beautiful Devil's Bridge, one of Wales' wonders. Aberystwyth also has the longest cliff railway in Britain, climbing up to the camera obscura giving you a larger than life view of Cardigan Bay.
*We do not accept group bookings from under 25's.
PARK INFORMATION
Pencnwc is a family owned holiday park that has been in the family for over 40 years. You are sure of a very warm welsh welcome and you can take time to relax in our heated indoor pool then relax even further in our licensed clubhouse featuring regular entertainment.
CONTACT
Pencnwc Holiday Park, New Quay, Ceredigion, SA44 6NL, Wales

01545 560 479

holidays@pencnwc.co.uk